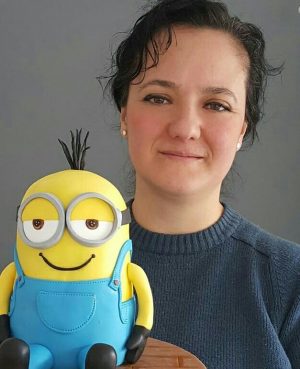 Hi, I am Berna. I founded Berdem Pasta in 2014.
I am a landscape architect by education. Following my graduation from university I practiced my profession in Turkey for a while; then I moved to the USA, where I worked in the fields of landscape architecture and tourism / hotel management for about six years. Meanwhile I started baking as a hobby.
After returning back to Turkey, I realized that my real passion was to make cakes and cookies, and to make others feel the taste and joy that come from delicious cakes .
In time my hobby turned into a business when I officially started Berdem Pasta (Cake Shop Ankara) in 2014. Since then, I have been professionally making the cakes and cookies you see on this site.
Bon appetit to everyone who tastes my cakes.
What Our Customers Say About Us
The comments below are real comments left by our customers on the search results pages of Google. Please click here to read all customers reviews and to share your own opinion.
As each year, this year I ordered my children's birthday cake from Ms. Berna. The taste and appearance of the cake was perfect. Thank you very much. See you again next year.

Sinan ALTIN


7 October 2017

We liked the cake very much, especially the children loved them. For me you are the only one when it comes to cakes. Thank you very much.

Cavid Abdullahzade


13 January 2018

What do people expect from a cake? It should look good and give you a you a nice taste that you'll remember. Here you can find more of them. First of all, you can be sure that you will get a cake which is same as you imagined. Regarding to taste I can say that you'll taste a wonderful cake, not a classic sponge cake. In addition, you will be in touch with very sweet people. So in conclusion, you will have a cake that will leave a mark on your mind in terms of both taste and shape, and maybe you will look for an excuse to order a cake again.

Enver Kunduz


17 May 2019

Rıdvan Arı


11 April 2016

Eda Abdullahzade


13 January 2018

Die bisher leckerste und gutassehndste Torte, die ich jemals "in meinem Leben" hatte, war von der Berdem-Konditorei! Obwohl ich nicht vor Ort war, ging die Bestellung super einfach per E-Mail. Eine bessere Konditorei gibt es einfach nicht. Herzlichen Dank an Berna Hanim!

Aysu K


19 November 2018

ah met


8 July 2018