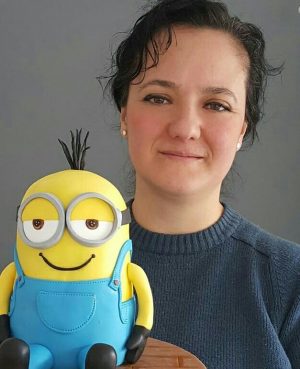 Hi, I am Berna. I founded Berdem Pasta in 2014.
I am a landscape architect by education. Following my graduation from university I practiced my profession in Turkey for a while; then I moved to the USA, where I worked in the fields of landscape architecture and tourism / hotel management for about six years. Meanwhile I started baking as a hobby.
After returning back to Turkey, I realized that my real passion was to make cakes and cookies, and to make others feel the taste and joy that come from delicious cakes .
In time my hobby turned into a business when I officially started Berdem Pasta (Cake Shop Ankara) in 2014. Since then, I have been professionally making the cakes and cookies you see on this site.
Bon appetit to everyone who tastes my cakes.
What Our Customers Say About Us
The comments below are real comments left by our customers on the search results pages of Google. Please click here to read all customers reviews and to share your own opinion.

What do people expect from a cake? It should look good and give you a you a nice taste that you'll remember. Here you can find more of them. First of all, you can be sure that you will get a cake which is same as you imagined. Regarding to taste I can say that you'll taste a wonderful cake, not a classic sponge cake. In addition, you will be in touch with very sweet people. So in conclusion, you will have a cake that will leave a mark on your mind in terms of both taste and shape, and maybe you will look for an excuse to order a cake again.

Enver Kunduz


17 May 2019

As each year, this year I ordered my children's birthday cake from Ms. Berna. The taste and appearance of the cake was perfect. Thank you very much. See you again next year.

Sinan ALTIN


7 October 2017

Thanks to Berna Demirel Akçaoğlu for making the most delicious cakes I have ever tasted. In the meantime, we decided on the shape of the cake we would like for my daughter's birthday on April 2, but we have eaten so many delicious cakes and cupcakes for years that we cannot decide which delicious one to choose :)

Belma Gokalp


26 March 2016

She added color and flavor to our many events with her attentive pastries. You can safely leave your dream cake in her hands, you can be sure that she'll create a cake better than you can imagine.

Hande Baspinar


17 May 2019

Ms. Berna, as always, the cupcakes that you prepared for the new year were amazing. The whole company loved them. Now, not only our family and friends, but also all the employees of the company know the taste of your cakes and the artworks you make. Thank you again.

Dilek Aydemir Altın


10 January 2018

During my research for an engagement cake order, I came across to Berdem Boutique Pasta website. The comments written here influenced my decision to work with Ms. Berna. I hope those who are in search like me, who want to see a great cake on their tables on their special days, discover Miss Berna like I did. I would recommend her to everyone. Our cake was magnificent both in terms of appearance and taste !!! It added color and flavor to our evening. Everyone who tried it loved it! I would also like to underline the sweetness, kindness and professionalism of Ms. Berna. She gave comprehensive answers to all of my questions and found solutions to my requests. She brought the cake to my house at the exact time we requested. Thank you very much for everything.

Zeynep Karaçoban


5 May 2019

The place that increased my daughter's happiness on all of her birthdays... The figures on the cakes are very successful, the materials used are extremely high quality and fresh. Cakes are made to meet all our requests. Berna is very caring and makes you very happy with her suggestions.

Munevver Bozdas


26 March 2016