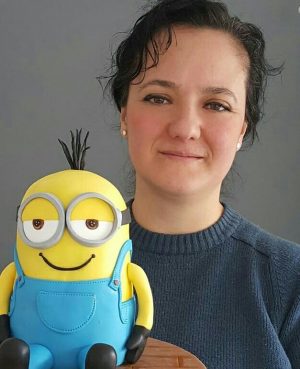 Merhaba, ben Berna DEMİREL AKÇAOĞLU. Berdem Pasta'nın kurucusuyum.
I studied landscape architecture at university and began practicing my profession in Turkey after graduating. However, I later went to the United States and worked in the fields of landscape architecture, tourism, and hospitality for six years. During this time, I became interested in pastry-making as a hobby, and my passion for this industry grew stronger every day.
Upon my return, I realized that my true calling was to make pastries and cookies, adding flavor to people's tongues and smiles to their faces. Thus, my pastry-making experience that began in the early 2000s turned into a business with the opening of my cake shop in 2014.
Since then, as Berdem Pasta, we have been offering carefully prepared cakes and cookies made with only the highest quality ingredients to our valued customers. Every flavor we create is designed to enhance your happiness, leaving an unforgettable taste in your mouth with our creative touches.
To all lovers of deliciousness, I recommend trying a piece of the special flavors of the Berdem Pasta family.
What Our Customers Say About Us
The comments below are real comments left by our customers on the search results pages of Google. Please click here to read all customers reviews and to share your own opinion.
Many thanks Berdem Cake, for the second time my doughter's birthday is amazing due to the professional design and artwork in addition to the taste, sharp delivery and excellent services with quite reasonable price,, just keep on...

iqdam ALWAN


3 May 2022
During my research for an engagement cake order, I came across to Berdem Boutique Pasta website. The comments written here influenced my decision to work with Ms. Berna. I hope those who are in search like me, who want to see a great cake on their tables on their special days, discover Miss Berna like I did. I would recommend her to everyone. Our cake was magnificent both in terms of appearance and taste !!! It added color and flavor to our evening. Everyone who tried it loved it! I would also like to underline the sweetness, kindness and professionalism of Ms. Berna. She gave comprehensive answers to all of my questions and found solutions to my requests. She brought the cake to my house at the exact time we requested. Thank you very much for everything.

Zeynep Karaçoban


5 May 2019
Gâteaux très bien réalisés et goût impeccable! Vous ne serez pas déçu 😊

Melaine Ouedraogo


3 November 2021
We have ordered a surprise birthday cake for a very close friend. We liked one specific cake with a figurine on top of it. Berna Hanim was extremely helpful and kind. It was very nice to work with her during the whole process. The cake was delivered on time in an exact shape as we asked. Our friend found the cake not only delicious but also beautiful. Thank you Berna for this work of art and we recommend her place to everyone! 🙂

BE


3 November 2021
Thanks to Berna Demirel Akçaoğlu for making the most delicious cakes I have ever tasted. In the meantime, we decided on the shape of the cake we would like for my daughter's birthday on April 2, but we have eaten so many delicious cakes and cupcakes for years that we cannot decide which delicious one to choose :)

Belma Gokalp


26 March 2016
Hayatımda ilk defa bi şeyle ilgili yorum yazıyorum sanırım :)) Ben gerçekten böyle bir lezzet daha önce tatmadım . İnanın bi çok yeri denemiş biri olarak asla unutamayacağınız bir lezzet sunuyor Berna hanım . Zarifliği, kibarlığı da onun diğer artıları. Erkek arkadaşım için konsept pastalar hazırladı önce sonra nişanımın efsane pastasını ... şimdi de bağımlısı olduk... yeni yıla girerken bu harika lezzet birazcık umut verdi bize bu kadar tatlı bir yıl olması adına..çok teşekkürler 🙏

Gamze Timur


3 September 2021
Kızımın doğum günü için verdiğimiz pasta siparişi için zamanında teslimatla başlayan memnuniyetimiz pastanın harika görüntüsü ve tadı ile kesinleşti. Ellerinize sağlık, teşekkürler

Pinar Cetin


3 September 2021