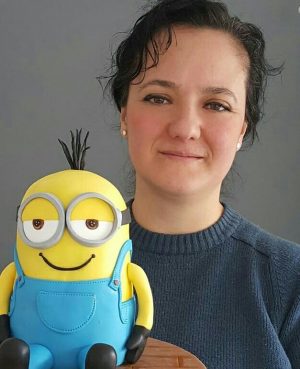 Hi, I am Berna. I founded Berdem Pasta in 2014.
I am a landscape architect by education. Following my graduation from university I practiced my profession in Turkey for a while; then I moved to the USA, where I worked in the fields of landscape architecture and tourism / hotel management for about six years. Meanwhile I started baking as a hobby.
After returning back to Turkey, I realized that my real passion was to make cakes and cookies, and to make others feel the taste and joy that come from delicious cakes .
In time my hobby turned into a business when I officially started Berdem Pasta (Cake Shop Ankara) in 2014. Since then, I have been professionally making the cakes and cookies you see on this site.
Bon appetit to everyone who tastes my cakes.
What Our Customers Say About Us
The comments below are real comments left by our customers on the search results pages of Google. Please click here to read all customers reviews and to share your own opinion.
İnanılmaz keyifli,lezzetli,salt emek ve sevgi içeren pastalarımızla çok güzel bir doğum günü kutladık sayenizde Berna Hanım...İyi ki sizinle yolumuz kesişti...Çocuklarımın doğum günü keyfi unutulmaz oldu güzel pastalarınız ile:)Ne mutlu bizlere güvenle ulaşabileceğimiz bir Pasta Sanatçısı ile tanıştık...Ellerinize ve emeğinize sağlık...

Aslı Öz


3 September 2021
I've found Berdem Butik Pastries shop on the internet and i found The Lady Owner responded immediately I ordered the Marzipan Birthday Cake for My BF..She did the great great jobs and all perfect for the big round Sandwiches,Mini Sandwiches,Mini Cake and Macarons..Thank you for your professional and awesome works!!

Parichart Abdulroehmarn


3 September 2021
Yaklaşık 10 senedir, özel günlerimizde (nişan, düğün, doğumgünü, vb.) pastalarımızı Berna Hanım'dan alıyoruz. Hepsinde de son derece memnun kaldık. Hem pasta kalitesi, hem de görüntüsü, emek harcandığını ve iyi malzemeler kullanıldığını gösteriyor. Bu da açıkçası tada ve lezzete yansıyor. Oğlum doğumgünü pastası için her seferinde farklı bir tema seçiyor (geçen sene minecraft, bu sene roblox) ve hiç pişman olmadan her seferinde pastaya bayılıyor. Hiç düşünmeden ürünleri alabilir ve sipariş verebilirsiniz. Ayrıca donut sevenler sabahları dükkana uğrarlarsa lezzetli bir şeyler bulabilirler.

f. emrah Kosgeroglu


3 February 2022
Ms. Berna, as always, the cupcakes that you prepared for the new year were amazing. The whole company loved them. Now, not only our family and friends, but also all the employees of the company know the taste of your cakes and the artworks you make. Thank you again.

Dilek Aydemir Altın


10 January 2018
Ms. Berna's fruit cake was delicious, light and fresh. Also, it did not have any chemical smell or taste like some other cakes. I want to say thank you once again Ms. Berna. Love and greetings...

Özge Okay


10 January 2018
We have ordered a surprise birthday cake for a very close friend. We liked one specific cake with a figurine on top of it. Berna Hanim was extremely helpful and kind. It was very nice to work with her during the whole process. The cake was delivered on time in an exact shape as we asked. Our friend found the cake not only delicious but also beautiful. Thank you Berna for this work of art and we recommend her place to everyone! 🙂

BE


3 November 2021
Gâteaux très bien réalisés et goût impeccable! Vous ne serez pas déçu 😊

Melaine Ouedraogo


3 November 2021